The Djinn Chronicles: Erenon is brought to you by xGames in a collection of porn games. Free access to this porn game is provided via few clicks. New and only best games are delivered to you on xGames.
Overview:
The Djinn Chronicles:

Decades ago, Dungeons began to appear in the world.
Inhabitants of Vetus soon discovered that the most daring
individuals could find wealth and glory within these massive towers.
Our story begins in Erenon, the most luxuriant continent, with a temperate climate all year round.
Enter a world where Dungeons bended the world's economy and changed the lifestyle of every mortal being.
Begin your adventure in a strange way, recruit new friends and form a party to become the most know Adventurer around!
Test your combat abilities in a high-magic world: hundreds of skills, weapons, armors and items!
Follow the story of a farmer who, one day, has to become an adventurer. Will he be good or evil? Maybe just neutral?
Will he be able to reach the top of a Dungeon? Maybe even more than one?
And, the most important thing: will our hero be able to lose his virginity? Will he fall in love and marry? Or he'll build an harem?
I'll let you answer those questions during your journey in Erenon.
Last update: 2022-12-02
Released: 2022-12-02
Creator (developer): Black Hood Games – –
Censored: No
Version: 1.01.624 Beta
OS: Windows, Android
Language: English
Genre:
RPG, 3dcg, Adventure, Fantasy, Big tits, Big ass, Nudity, Male protagonist, Combat, JRPG, Milf, Mobile game, Turn-based Combat, Romance, Stripping, Voyeurism, Oral sex, Handjob
planned tags :
Sex, Masturbation, Vaginal sex, Masturbation, Animated, Harem
Install instructions:
Whats new (last changes):
v1.01.624 Beta
Whats new (last changes):

02/12/2022:
– Rebalanced first mobs encounters: Reduced Armor for Goblins; reduced Armor, Strenght, and HP for Gnolls
– Reworked the Innkeepers in Taverns: now you can rest at any hour and skip directly to the next day's morning.
– You don't have to return the key, everything will go in auto-pilot. The price is still 5 Gold Coins
– Reworked the "easy quest" in Thalvefell: now you simply need to give a Simple Ration to the girl in the garden and get your reward in the Guild. No packages from the Innkeeper to pick up.
-Increased the reward from 5 Gold Coins to 6 Gold Coins
-Reworked tutorial
-Added combat tutorial
v1.01.568 Beta
Whats new (last changes):
12/11/2022:
– BIG CHANGES in the combat system: now it should be less frustrating. More action: both sides (player and enemies) hit more frequently. Tuned up the AoE magic, and the same damage but the hit chance increased.
The combat is less "random" and more damage based. As a consequence of this, the difficulty of the bosses and encounters increased. Some encounters have been decreased in numbers to reduce the difficulty.
Bugfix:
– Fixed the 2 tables inside Elild's House, now you can't walk over them
– Split the world map into smaller zones to improve performance. Removed layer to improve performance further on mobile devices.
– Fixed the "Shop" option for the Barmaid in Thalvefell
– Fixed the "Easy quest" bug in Thalvefell which prevented the player to full the quest.
– Sync of busts in dialogs
– +100% size of the quick access Quests on the screen out of the main menu
v1.01 Beta
Whats new (last changes):
System:
– Skill system set tested intensively
– 14 Types of Damage (elemental and physical)
– 8 Skill Types
– 5 Weapon Types
– 9 Armor Types
– 14 Equipment Types
– 309 Skills
– 77 items
– 87 Weapons
– 75 Armors
– 77 Different Enemies
– 68 Altered States
– 21 Classes
– 21 Actors
Gameplay:
– Introduction
– Tutorial
– 2 Party members to recruit
– First story arc
– Thalvefell Dungeon: up to the 10th Floor
– 3 quests at the Adventurer's Guild of Thalvefell
– Cawic Dungeon
– Dozens of NPCs
– Interact with the life of the cities and uncover their secrets
– Fight with enemy tropps balanced upon your current level in four scales of difficulty: Easy, Medium, Hard, Deadly
– DUSAS!
Maps:
– World map
– Mc's House External Map + House Intern Maps
– Thalvefell Map + 6 Intern Maps
– 2 separate Maps for quests in Thalvefell
– Cawic Map + 8 House Intern Maps
– Cawic Dungeon Ground Floor Map
– Nulbadin Map + 6 Intern Maps
– Hidden Camp Map
– Frithuie Keep Map (external)
Graphics:
– 109 busts for characters/PNGs/enemies
– 103 renders
– 13 loading screen renders
– 19 tutorial images
– 7 pop-up renders for items (parchments)
Bugfix:
– Fixed the 2 tables inside Elild's House, now you can't walk over them
Features:
– Content Rich: One main character, a dozen of recruitable characters, and tons of NPCs. Every character is characterized, by its own strengths and weaknesses.
A gigantic world map with dozens of maps to explore. A major story arc, a multitude of Side Quests, and many many random events just for fun.
Fight with a multitude of different enemies and bosses! Level up, crawling your way to the top!
– Challenge Yourself: the game has no "difficulty mode" and combats are calibrated with Easy, Medium, Hard and Deadly difficulties.
It is possible to encounter many game overs along your journey. Do not be overcome by despair!
The game mechanics reward those who can create combos with abilities and spells, you have many many different combinations.
With experience, you can transform a "deadly" encounter for the game into an "easy peasy lemon squeezy" encounter.
And there are many magic items to help you too!
– Grow your characters: level up, unlock new Spells and Skills, collect loot, buy items, magic armors, magic weapons and full quests.
Meet a dozen of characterized allies to help you along your journey to becoming an adventurer!
– Classes: every character you can recruit has its own Class, inspired by the classic ones: Cleric, Wizard, Barbarian, Paladin, Ranger, Rogue, and so on.
Meet characters with unique Classes and find out that some "classic" ones have been heavily modified into something different!
By leveling up, learn to master the class of the Main Character and overcome your enemies with your trusted party members!
– Unique stories: follow the main quest, uncover secrets of the Region, get rewarded for doing odd jobs for the Adventurer's Guild.
Find out the personal story of every member of the party. Also, there's a strange guy who follows you everywhere… Maybe he knows something.
Save Location:
Win: \Users\<Your Name>\AppData\Local\User Data –> DefaultErenonfileX.rpgsave
Android: The save files are in android/data but are only accessible in rooted phones.
DOWNLOAD
Win

: – – –
Android
:
– –
Others
:
*
*This port/versions is not from the dev(Unofficial), Use it at your own risk
The Djinn Chronicles: Erenon: screenshots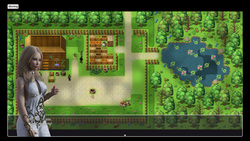 Welcome to the adult world of meetings with your secret wishes. Free download from MEGA or other file hostings right now, unzip, easy install in a couple of minutes and play this adult game.
Try to be a good player and take what you want. It will be not just simple robots, there will be a lot of familiar characters that you're totally gonna like.​ Will you find love and happiness? Will you be a good hero? Will you user your power and authority? Start now!
---