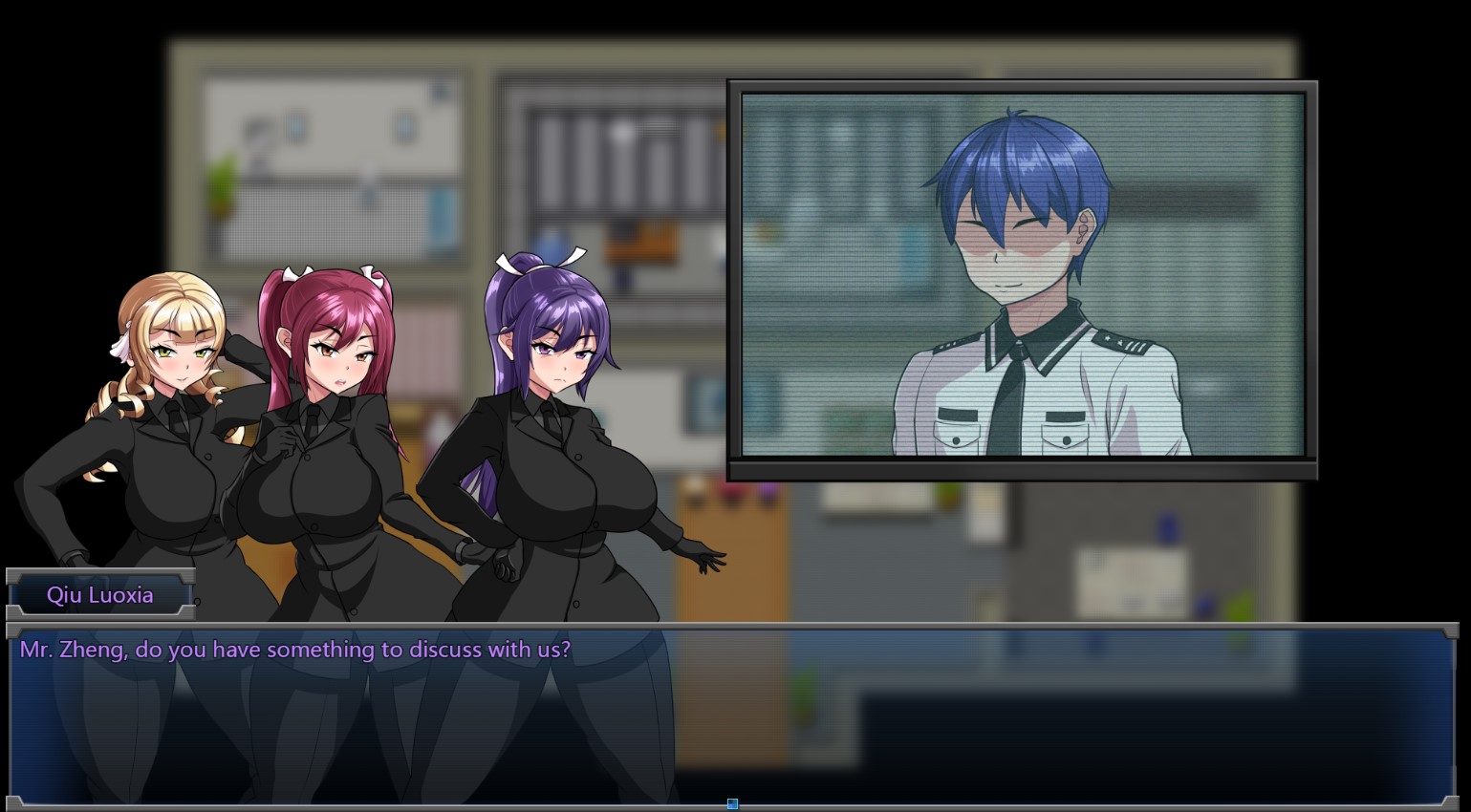 Ruled by Rule is available here as a part of our large adult games collection. Direct download of this sex game is available with just a few clicks. Games like Ruled by Rule are delivered to you on xGames.
Trapped by an unknown force known as "the rules of the world," the local police chief,
Masatake, gathers three rookie police officers, Shu Rakka, Yin Xinfo, and Ryu Hyojyo,
to maintain the town's security as the "Princess of Security" team.
In order to maintain the town's security and public order,
as well as to lift the "rules of the world" that imprisoned the chief, Masatake,
the three young women fight the local villains,
"Tangyang Chai," and gradually reveal the truth behind the "rules of the world.
Last update: 2023-08-08
Released: 2023-08-08
Creator (developer): KineticDog –
Censored: No
Version: Final
OS: Windows
Language: English, Japanese, Chinese Simplified, Chinese Traditional
Voiced: Japanese
Other Games:
Genre:
2dcg, 2d game, adventure, ahegao, bdsm, big tits, corruption, creampie, dilf, exhibitionism, fantasy, groping, japanese game, male domination, mind control, oral sex, rape, rpg, school setting, sexual harassment, vaginal sex, voiced
Install instructions:
Developer Notes:
It is an RPG that mainly includes battles with erotic elements such as rape and hypnotic brainwashing.
Introduction
"Rule Domination" is an RPG that mainly includes ecchi elements such as rape and hypnotic brainwashing, as well as combat. The game has the following features:
– Erotic specialization during battle. The erotic content of this work is focused on the battle part, and there is no need to wait for battle defeat CG. All erotic productions are performed in battle scenes.
– Play after losing battle. In this work, defeat in battle does not mean Game Over, so the viewpoint will switch from the peace princesses to the villains, and you will be able to play a unique post-defeat content. You can manipulate the villain to bully and abuse the peace princess.
– World rule system. In the world view of this work, there are laws called "rules of the world" that go beyond the laws of physics in the world, so the contents stipulated by the rules of the world are always realized. The villains use the evil deeds points they get from their evil deeds to open the rules of the world that are unfavorable to the peace princesses, and use the harsh rules of the world to gradually corrupt the peace princesses.
Combat Etch Specialization
This work is highly specialized in battle etch, and specifically has the following features:
– Erotic CG appears during battle. The main erotic CG in this work is displayed directly in the battle scene without using the display method like a visual novel. You don't have to wait for the battle defeat CG after the battle is over, you can experience these contents directly in the battle scene.
– Further specialization of battle etch. Unlike general "combat sex specialized" games, in this work the sex CG differs depending on the battle. Since there is a lot of content drawn with CG during battle, there are also a lot of etch CGs thrown in:
– A total of 10 basic CGs, including passive special CGs when the main character is attacked by an enemy.
– A total of 20 special CGs and basic CGs that are invaded by the enemy (or voluntarily have sexual intercourse with the enemy under the influence of certain rules).
– A total of 10 special CGs and basic CGs where you lose consciousness and fall down (or fall down with an orgasm) from a heavy blow.
– When all of the above occur, the main character's facial expression CG, a total of 71 eye expression differences and a total of 36 mouth expression differences.
– Ecchi production is incorporated into the battle. This work has unique combat mechanics, so there are many things to consider in actual combat, such as how to avoid being invaded, and how to escape from being bound if you are invaded. Therefore, you won't feel bored even if you fight to clear it.
World rule system
During the game, when the protagonist is defeated, it shifts to the perspective of a villain who enslaves the protagonist. Manipulate villains to do evil deeds and earn evil deed points, so you can use the evil deed points to unlock the harsh world rules. There are a total of 30 rules of the world, including various Plays:
– Forced effects. For example, Rule 17: If Jianhime is defeated in battle, she must pay the opponent 100,000 yen in compensation.
– Personality change system. For example, Rule 6: Force your opponent to develop romantic feelings, and each time you lose, your feelings will grow stronger.
– Body suggestion system. For example, Rule 4: When Jianhime is vaginal cum shot during intercourse with another person, her body is forced to produce a large amount of pleasure and climax.
– Common sense change system. For example, Rule 29: It is the duty of the security princess to dance vulgar dances on the stage of the store to relax the minds of the residents.
Using the rules of various worlds to bully the peace princesses and make their situation even more disadvantageous.
DOWNLOAD
Win: – – – –
Thank you for sharing the game
​
Ruled by Rule [Final] [Kinetic Dog]: screenshots
Enter an virtual world with your secret wishes. Free download from MEGA or other file hostings right now, unzip, easy install in a couple of minutes and play this adult game.
Try to be a good player and get what you really want. It will be not just simple robots, there will be a lot of familiar characters that you will met.​ What will you do? Will you be a good man? Will you abuse your power and authority? Start now!
---