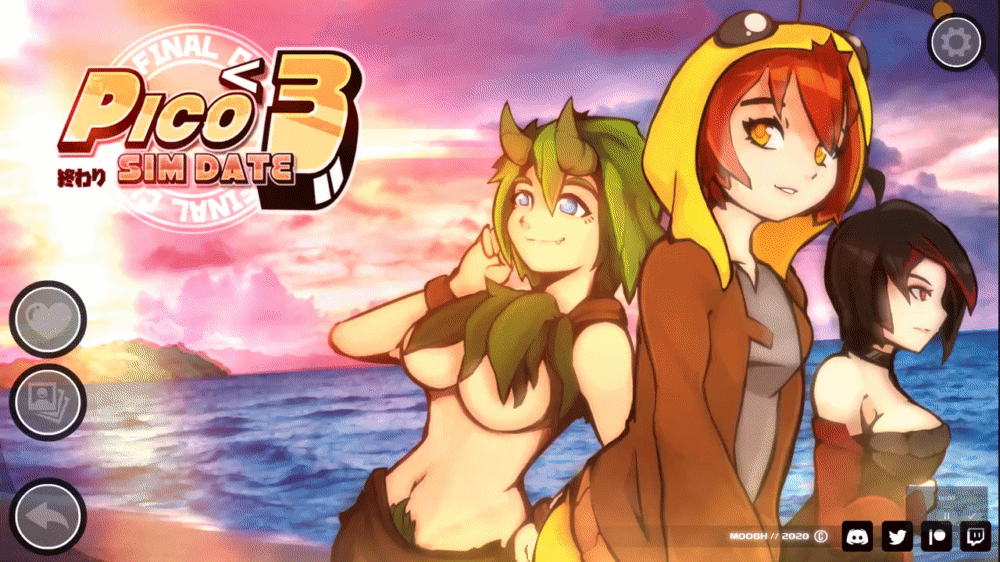 Help Pico, our main character, get the job of his dreams in order to earn enough to afford the most expensive presents for his girlfriend. Join a college and check your phone often in order to increase your skills. Which trait is the most important for you?
Objectives
1.Fuck Bitches
2.Get Money
3.Find A Cure
Last update: 2020-11-28
Released: 2020-11-01
Creator (developer): Moosh –
Censored: No
Version: 0.70.1
OS: Windows
Language: English
Genre:
2dcg, animated, adventure, big ass, big tits, oral sex, vaginal sex, dating sim, male protagonist, fantasy, school setting, monster girl, cosplay, sandbox
Install instructions:
Whats new (last changes):
Build 0.70.1 Change-List:
Feature – Nene Quests ImplementationContent – Nene Endings (False, Good & True Ending)Content – Updated to include new PhotosPolish – Nene Specific Event HandlingTuning – Grade and Stat Requirements for PromotionsBugfix – Various TyposBugfix – Creating Flash doesn't increase time or spend energyBugfix – Time Transitions display correctlyBugfix – Email/Text Profile PicturesBugfix – Final Propose Task doesn't show up on Quest ListChore – Optimizing PNG ImagesBuild 0.69.1 Change-List:
Content – 15 Endings – False, Good & True Endings (Allie, Bree, Hun-Ni, Trish, Donna)Content – Implemented Climax Event Previews (Allie, Bree, Hun-Ni)Feature – Settings – Full-Screen/Window ModeFeature – Settings – Resolution Settings (Support for: 854×480, 1024×576, 1280×720, 1920×1080, 2560×1440)Feature – Settings – Volume Control (For Music, Sound FX, Voice)Feature – Settings – Quit to Menu / Quit to DesktopFeature – Collection View – View all game progressFeature – Photo Album View – View all Photos from Main MenuFeature – Achievements ViewCode – Savefiles!Code – Support for 4 separate savefiles – Creating, Filenames, DeletingCode – Autosaving FeaturePolish – Misc. Polish for Sleep AnimationBuild 0.66.1 Change-List:
Feature – Random Events ( /w Placeholder Events for now)Feature – Ending Sequences ( /w VERY placeholder assets for now)Debug Menu – "Always Open" Mode (all the places/actions are open regardless of what time it is)Code – Stats/Money are clamped (stats don't exceed max values and money never goes into the negative)Bugfix – Fixed up Make Flash/Dorm Computer actionBugfix – Fixed Art Progress % displayBuild 0.64.1 Change-List:
Feature – Quick Sleep MechanicFeature – Storyline Choice EventsFeature – Propose ActionFeature – Deeper Ask QuestionsWriting – First Pass for Waifu Choice Events: Allie, Bree, Hun-Ni, Nene, Trish, DonnaWriting – First Pass for Ending Events: Allie, Bree, Hun-Ni, Nene, Trish, DonnaWriting – New Backstory/Lore Dialogs when Asking GirlsAnimation – Various Expression Animations (in-progress)Code – Dialog-Animation RefactorCode – Integrating all new writing/dialogCode – Ending/Love-Points LogicCode – Placeholder Ending ScenesDebug Menu – "Skip Quests Mode" (Automatically fulls quests/tasks)Debug Menu – "Infinite Energy Mode"Art – Placeholder Cell Photo PhotosUX/Polish – Various UX Polish ('Talk' button greying out when unavailable, new [Click to Continue] icon, etc.)Build 0.55.1 Change-List:
Code – Game Manager RefactoringCode – Created Narrative ManagerCode – Energy and Time Tuning FileDebug Menu – "Skip to Game" (Skips Diary)Debug Menu – "Advance Time"Debug Menu – Time Limit EditDebug – Boot Choice (Pregame/Game)Feature – Energy MeterFeature – Sleep/Nap actionsFeature – Cellphone (WIP) Photo-viewerFX/Polish – Energy Fill/Empty AnimationFX/Polish – Night and Morning World FXFX/Polish – Cellphone animation polishArt – Updated Metro Town mapAnimation – Marina Travel sceneAnimation – Sleep Day TransitionUX – Open/Close Available time on actions shown on top right of actionsUX – New back button location for places (to accommodate Energy Meter)UX – "Too Tired" feedbackTuning – The Lab promotion requirementsBuild 0.52.1 Change-List:
Feature – Front-End IntroFeature – WIP Main Menu – (Placeholder "Settings" and "Save File Slots")Feature – Diary Intro SequenceDiary – Story WritingDiary – Pico Diary AnimationDiary – Pico Character SpriteDiary – Transitions & FXDiary – Option/Choice functionalityDiary – Customize Your Stats functionalityDiary – Difficulty Settings functionalityFeature – WIP Sound SystemFeature – MARIO ELEVATOR MUSIC IS BACK (BABY)
Developer Notes:
DOWNLOAD
Win: – – – –
Mini Games:
HunNi Climax (w.i.p)
Win: – –
Bree Climax (w.i.p)
Win: – –
Yome ASMR (w.i.p)
Win: – –
​
Pico Sim Date 3: screenshots
Welcome to the adult virtual world of meetings with your wishes. Free download from MEGA or other file hostings, unpack, easy install in a couple of minutes and play this adult game.
Be a smart man and get what you really want. It will be you next second life, there will be a lot of familiar characters that you're totally gonna like.​ Will you find love and happiness? Will you be a good man? Will you user your power and authority? Start now!
---