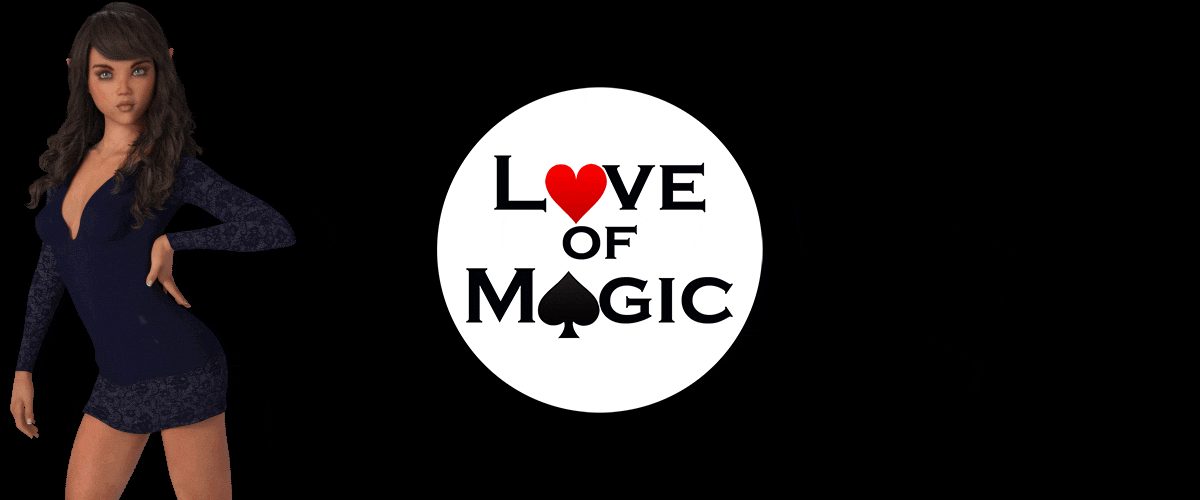 Description: :
"We thank you for your application to the Master of Arts in Applied Thaumaturgy (Evoc.) at Edinburgh University. After careful consideration it has been determined that you are hereby admitted to the 2019 intake."
Welcome to the world of Magic, where demi-Gods drink in your local pub, and the great grand-daughter of King Arthur is your study-buddy. Fight your way through the Paths of Elsewhere, romance a variety of gorgeous women, and discover your destiny.​
Last update: : 2019-12-04
Released: : 2019-12-04
Creator (developer): : Driod Productions
Censored: No
Version: 0.1.21
OS: Window, Linux, Mac, Android (Unity), Web (HTML5)
Language: English
Previous work:
Cheat system: Ctrl + J to enable debug menu
Genre:
3DCG, Animated, Male protagonist, Mobile game, Groping , Handjob, Tentacles , Teasing, Virgin, Oral sex
Install instructions: :
Windows: Just download and click Love of Magic.exe
OSX: Download. Then chmod +x Love of Magic.app/Contents/MacOS/* (to give it execution priviliges)
Android: Download, install as usual.
WebGL : Go to the developer page and click on the play button. Note that the WebGL version won't run on Mobile, and uses reduced texture-resolution to run properly. For best performance, download the game.
Whats new (last changes):
Whats new (last changes):
0.1.21
– Moving automatically from room to room doesn't update the UI name
– Fixed character positions not synching perfectly
– Added 5 new Slice of Life events (3 in bookstore, 1 in cafe, 1 in Crowley)
0.1.20
– Fixed the "invisible line of text" in ceremonial magic II.
– Fixed a bug where the players could trigger the elsewhere entrance out of order by talking to Katie before Dylan
– Fixed a bug where cards could be left behind on the board
– Gems handed out by katie are 3x level 1 + 1x level 4; should reduce the problem of not having any feeling of control at the opening matches
– reloading last save will now respect triggers being fired by date/time
0.1.19
What's changed:
– Training in the Gym would take up two time-slots
– Edited the coffee shop dialog to hint that there are future events ahead if you continue chatting with people
– Fixed a bug where the Art of Jeet Kun Do would fail to advance time for one of the reading slots
– Fixed an OSX build issue with invalid resource packs
0.1.18
What's changed:
– Tons of spelling issues fixed (thanks to the fine users at F95)
– Made it easier to close the Email UI
– Made it easier to train strength
– Changed the card-picking code to prioritize Right-to-left rather than Left-to-right, should make picking things easier
– Fixed up desinations not having human friendly names
– STR/INT swapped in the UI
– Made it possible to purchase coffee in a single-tap
– QSave disabled in dialog
– Adrian won't sell you stuff at night
– Computer in room would be visible when there are people in the room (overlapping their images, and causing accidental clicks)
0.1.17
What's changed:
– Quick bug-fix for progression blocker (Ceremonial Magic II)
v0.1.15
Initial release
Developer Notes:
Sexual (planned): Anal Sex (loophole), Exhibitionism, Vaginal sex, Toys
Format: Non VN (free-roaming world, choices, adventure, dating sim, fantasy, romance, RPG
Intro video:
Teaser:
First 10 mins gameplay:
Note: Android Build incorrectly reports that it's 0.1.14; caused by first build on a new computer.
DOWNLOAD
Win/Linux: – – – – –
0.1.18
Mac: – –
Love of Magic: screenshots
Welcome to the adult world of meetings with your wishes. Get this from MEGA or other file hostings right now, unpack, easy install and play this interactive game.
Be a good player and get what you want. It will be you next second life, there will be a lot of interesting persons that you're totally gonna like.​ What will you do? Will you be a good man? Will you user your power and authority? Start now!
---