Karma Rain is published on xGames as a part of our large adult games collection. Free access to this game is available via few clicks. All new games and different updates are are always available for you is always here.
A short-length fantasy NTR/cuckoldry RPG.​
Last update: 2023-01-25
Released: 2018-11-15
Creator (developer):
Censored: Yes
Version:Final
OS:Windows
Language: English (Edited MTL)
Store:
Genre:
2D Game,Japanese Game,NTR,Cheating,Rape
Install instructions:
1. Extract and run.
Note: You will need Rpg Maker Vx Ace if you dont have it already.
Developers Notes:
– Has two endings.
– Reminiscence system
You can recall memories at a particular place.
When unlocking all memories…
– Especially recommended for those who have a thing for serious and melancholic NTR.
Estimated playtime is about 1~2 hours
26 base CG including 7 non-erotic CG and 6 cut-ins.
About 400 CG in total including variations
12 H scenes
* Requires RPG TKool VX Ace
Creator's Blog:
Karma Rain: screenshots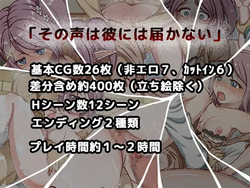 Enter an world with your secret wishes. Get this from MEGA or other file hostings, unzip, easy install and play this porn game.
Be a smart man and get what you really want. And it will be you next second life, there will be a lot of interesting persons that you will met.​ Will you find love and happiness? Will you be a good man? Will you user your power and authority? Try now!
---