Dirty Texts – Melissa's Secret is brought to you by xGames in a collection of porn games. Free download of this sex game is provided via few clicks. All new games are delivered to you on daily basis by xGames.
Part of the "Dirty Texts" franchise. In "Melissa's Secret" you play the role of a man whose girlfriend's daughter, Melissa, decided to start a JustFans page. A platform which she uses to sell sexy pics of herself. Since you're the closest thing she has to a male role model, it's your job to talk her out of it. Whether or not you will actually succeed remains to be seen.
Melissa is an 18 year old girl, who has a lot of insecurities about her body. Melissa thrives on the validation she recieves from felling accepted by those around her. At this point in her life, Melissa's future is very fluid. She could be just a sweet girl who made bad decision. Perhaps she's actually your soulmate, or maybe she could be the perfect little slut you've always hoped to find. Her future is in your hands. How will you guide her?​
Last update: 2023-08-22
Released: 2023-08-21
Creator (developer): RoyalCandy – –
Censored: No
Version: 1.0
OS: Windows, Linux, Mac
Language: English
Other Games: – –
Genre:
3DCG, Blowjob, Handjob, Vaginal Sex, Anal, Corruption, Creampie, Masturbation, Stripping, Teasing, Teen (over 18)
Install instructions:
Developer Notes:
This is a story-centric game that is played entirely in a text application, where the player gets to talk via texts with Melissa about her decisions, her life, her future, and, on occasion, her selfies.
The game has 33 different images you can unlock and 4 different endings, based on your choices, so be sure to choose wisely.
Dirty Texts – Melissa's Secret [v1.0] [RoyalCandy]: screenshots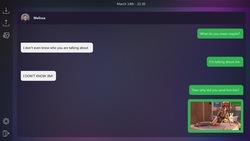 Enter an virtual world with your secret wishes. Get this from MEGA or other file hostings, unzip, easy install and play this porn game.
Be a smart man and get what you really want. It will be not just simple robots, there will be a lot of familiar characters that you will met.​ Will you find love and happiness? Will you be a good man? Will you abuse your power and authority? Start now!
---