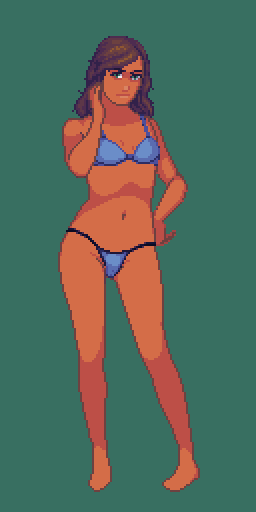 Blue Swallow is brought to you by xGames in our large porn games collection. Direct download of this game is served with just a few clicks. New and only best games are are always available for you on xGames.
Claire is a normal girl in a normal world, just living life. Without warning, her life becomes upended. She is recruited to save her country.
No training, no experience, but now a spy with everything on the line.
You control the action of our main protagonist, our heroine who has been thrust from a normal life into going undercover to save her family and save her country.
Who is she?
How did she end up in this position?
Will she succeed?
…What will she have to do to accomplish her mission?
YOU decide.
Last update: 2023-04-30
Released: 2023-04-30
Creator (developer): Blue Swallow –
Version: 0.1
OS: Windows, Mac, Linux, Android, iOS
Language: English
Genre:
2dcg, Text-based, Female protagonist, Character creation, Adventure, RPG, Simulator, Oral sex, Vaginal sex, Lesbian, Creampie, Cheating, Cosplay, Corruption, Drugs, Exhibitionism, Groping, Group Sex, Humiliation, Incest, Interracial, Multiple Endings, Multiple Penetration, Pregnancy, Prostitution, Rape, Sandbox, Sexual Harassment, Stripping, Teasing, Virgin, Voyeurism
Install instructions
Whats new (last changes):
v0.1
Initial Release
Character Creation and Story Setup
Developer Notes:
: 0.1 Release
And here we go!
Here's the 0.1 release for your consumption.
It comprises a majority of the character creation and setting the scene.
0.2 will see the following development of the story:
Content
* Our protagonist fleshes out her group of friends and cohort in the school
* She puts the finishing touches on who she is and how she interrelates with others
* She gets to have a few experiences tailored to her choices so far, including Prom!
* We find out who she's been with, if anyone, and who they are
* We'll end with her decision on college, a gap year, or neither
* And a surprise…
Technicals
* Improvements and expansion of the Paperdoll
* More art assets
Blue Swallow [v0.1] [Blue Swallow]: screenshots
Welcome to the adult virtual world with your secret wishes. Free download from MEGA or other file hostings, unpack, easy install in a couple of minutes and play this interactive game.
Try to be a good man and get what you want. It will be not just simple robots, there will be a lot of interesting persons that you will met.​ What will you do? Will you be a good hero? Will you user your power and authority? Start now!
---