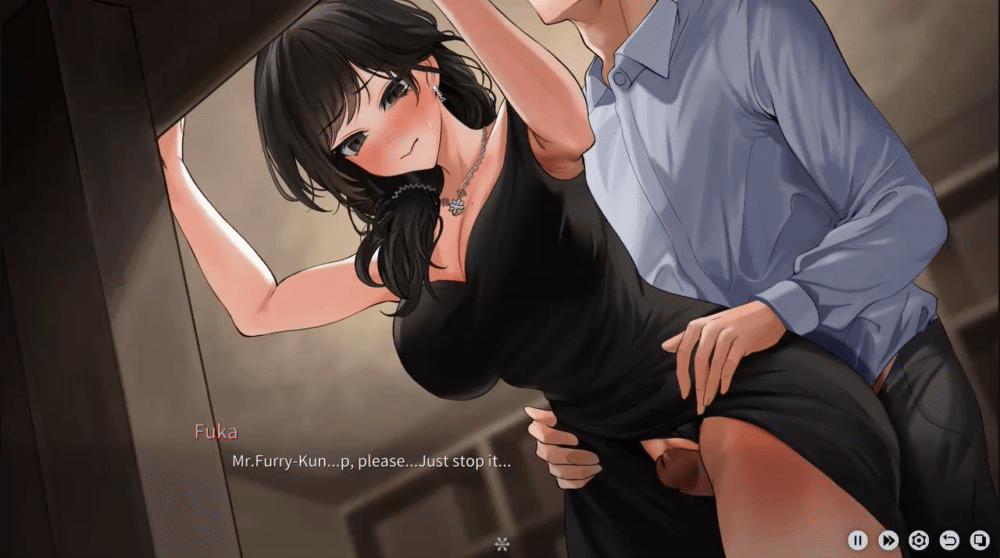 Yusetsu is brought to you by xGames in a collection of porn games. Direct download of this sex game is available via few clicks. New and only best games are are always available for you on xGames.
This work is an AVG with a pure love theme.
The protagonist you play is emotionally frustrated.
During the day, you work in the company to make money.
By chance, you meet the hostess of the "Yusetsu" bar, Fengxiang, and she brings you here. .
Here you can drink and chat with girls, and as their friendliness improves, they will slowly open up to you…​
Last update: 2022-10-01
Released: 2022-09-30
Creator (developer): DSGame
Censored: No
Version: Final
OS: Windows
Language: English
Voiced: Japanese
Genre:
2dcg, animated, male protagonist, big ass, big tits, dating sim, sandbox, romance, voiced, japanese game,
Install instructions:
Developer Notes:
Game
– There are 3 girls in the game that you can walk through, 27 CGs are available for collection, and some animations are made using Live2D technology to make them more delicate
– Each girl has her own favorite wine, and choosing the right one can greatly improve each other's favorability and unlock more plot interactions
– Each character has 40 random feedback and lines, and the girls will react differently depending on how the player interacts with the girls
Character
Fuka
CAST: サクラヒカリ
The boss of "Yusetsu", a gentle and reliable big sister, exudes the temperament of a mature woman, and is also a serious cat control. I always feel very at ease with her, but occasionally there is a natural side.
Aoi
CAST: サクラヒカリ
A girl who is as dazzling as the summer sun, no matter who she is, she will be immediately attracted by her extraordinary temperament (it is said to be the daughter of a wealthy aristocrat). There is a slightly sad story behind her pure and kind-heartedness.
Mao
CAST: 水野七海
The little devil girl, in short, is very cute! As long as you are with her, you can forget all your troubles. But don't think "cute" is all she has, she has a big dream waiting to come true!
About
The single-line process for each girl in this work takes about 2 hours, and it takes about 6 hours to full all 3 lines.The performance of the game bar part was produced by L2D, and Japanese dubbing was added to all the main plots.
The script of the game was created by SP.KAKA, the original painting of the game was done by artist "雪", and the music was fulld by Yiheweigui Studio and musician sSiuHin.
There is no deliberate increase in difficulty in the game, all you have to do is slow down and experience the daily life with the girls.
Welcome to the "Yusetsu" bar, please enjoy a simple and gentle day away from the hustle and bustle of the city!
Yusetsu: screenshots
Enter an virtual world of meetings with your secret wishes. Get this from MEGA or other file hostings, unpack, easy install in a couple of minutes and play this porn game.
Try to be a good player and get what you really want. It will be you next second life, there will be a lot of interesting persons that you will met.​ What will you do? Will you be a good man? Will you user your power and authority? Try now!
---