Description:
The Lab is a vore fetish game wherein you (the player character) must explore rooms packed with crazy monsters who want you for dinner. Sometimes they might even eat you. When they do, the scenes contain a high level of detail and description.​
Last update: 2020-04-12
Released: 2019-09-01
Creator (developer): KD Dragon
Censored: No
Version: 13.5
OS: Windows
Language: English
Genre:
Text based, Male protagonist, Female protagonist, Character creation (limited), Adventure, Sci-fi, Vore, Furry, Monster, Monster girl, Rape, Anal sex, Vaginal sex, Oral sex, Multiple penetration, Gay, Lesbian
Install instructions:
1. Extract and run.
Note: Game requires software to be installed.
Whats new (last changes):
Note: This game requires the Quest Player software to be installed. See Installation for link.
DOWNLOAD
Win: – –
Others:
Thanks to for the share!
​
 
The Lab: screenshots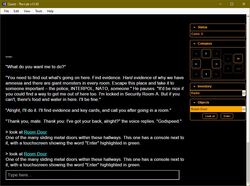 Enter an virtual world of meetings with your wishes. Get this from MEGA or other file hostings, unzip, easy install in a couple of minutes and play this interactive game.
Be a smart man and get what you really want. And it will be you next second life, there will be a lot of familiar characters that you will met.​ Will you find love and happiness? Will you be a good man? Will you user your power and authority? Try now!
---