Suddenly a Girl is a Life Simulation with Transformation elements in a modern world. Male to Female transformation is the main focus but other transformations like Female to Male, Bimbofication, Sissification and probably a few others will be added later on too.
STORY
After finishing school you wanted to start a career as a professional Gamer. But unfortunately it isn't that easy and you have to spend all day playing games and practice a lot if you ever want to get there.
It would have also been easier if your Mother wouldn't nag you all the time to get a real job and to finally contribute to the household. But your Mother's patience is running thin and her new Boyfriend Jeff seems to work on another weird invention of his. He thinks that he made a breakthrough with it and convinces you to help him test it, let's just hope that nothing goes wrong.
Last update: 2020-05-29
Released: 2020-05-07
Developer/Publisher: Draga/Dragax –
Censored: NO
Version: v0.2
OS: Windows
Language: English
Genre:
3DCG, Cheating, Corruption, Family, Group Sex, Incest, Masturbation, Mind-control, MILF, Male Protagonist, Sex, Straight, Lesbian, Transformation
Install instructions:
Whats new (last changes):
2020-05-07
Here is the full changelog from v0.1 to v0.2:
-Complete dynamic sex system added; with a lot of foreplay options and different sex poses to choose from, the higher your perverted score is the more poses you get to choose from, text changes depending on some of your traits, only for male npcs so far (lesbian and shemale will be added later on)
-1 New social event with your Mom
-4 New social events with Jeff
-8 New events with Hiro (a lot of choices and variants depending on your relationship with Jenny)
-3 New events with the Personal trainer (Jack) at the gym
-3 New random events while waitressing (some only happen if you wear the waitress dress)
-2 New random events at home
-1 New random event while getting a massage at the Gym
-Club event with Jenny added (4 paths)
-Club overhaul; added a bouncer, glory hole events and some new text and random events while dancing, events will change if you are drunk
-"Clothing store" renamed to "Mall" (+furniture and adult store added)
-Reworked how masturbation works (you can now also use toys from the adult store)
-You can now get pregnant if you have unprotected sex (it has no consequences or visual changes so far though, this will be added later on)
-You now need proper clothes to train at the gym
-A new visual for the map added
-The UI got a fullly new design
-Changed Jeff's relation from "Stepdad" to "Mom's boyfriend" since I still have other stuff planned for him
-Changed the way how the dialogs with Jenny (the waitress) worked, since it was a bit buggy
-You now always wake up around 7am
-A lot of minor improvements and content additions
-A lot of bugfixes and spelling fixed
DOWNLOAD
Win: – – –
Thank you for sharing the game.
​
 
Suddenly A Girl: screenshots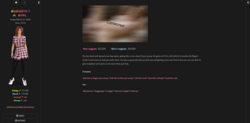 Enter an virtual world with your wishes. Get this from MEGA or other file hostings, unpack, easy install in a couple of minutes and play this interactive game.
Be a smart man and take what you want. And it will be you next second life, there will be a lot of familiar characters that you're totally gonna like.​ What will you do? Will you be a good hero? Will you abuse your power and authority? Try now!
---