Night With the Aardvarks is brought to you by xGames as a part of our large adult games collection. Free access to this adult game is available via few clicks. All new games are delivered to you on daily basis by xGames.
An illustrated short story with choices. The current version is the teaser and the start of the story. The next version to be released will be the full story.
The story is inspired by the TV show Arthur but the characters are not the same, and there are some sci-fi elements. All characters are 18+.​
Thread Updated: 2022-03-06
Release Date: 2022-03-06
Developer: Ortus –
Language: English
Censored: No
Version: v0.1
OS: Windows, Linux, Mac, Android
Language: English
Genre:
2DCG, Male Protagonist, Mobile Game, Fantasy, Sci-fi, Humor
Developer Notes:
Feedback is welcome and encouraged. You can also talk to me on Discord.
My goal is to make VNs with wide enough appeal to make this a career. In my past I created VNs with less appeal but learned lessons from them. One reason I'm doing short stories with choices now, is so that even if it's not very popular I can still finish it up as intended, learn lessons from creating it, and then come up with another story with an even better art-style/story pacing/etc. taking all the lessons learned to do better, rather than getting trapped in a large project that is unpopular (which happened in my past).
I'm happy with how this is turning out. I think I'm doing much better.
Night With the Aardvarks: screenshots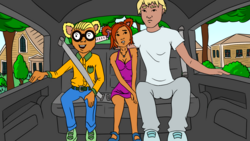 Enter an virtual world with your wishes. Free download from MEGA or other file hostings right now, unzip, easy install and play this porn game.
Be a smart player and get what you want. It will be you next second life, there will be a lot of familiar characters that you're totally gonna like.​ What will you do? Will you be a good hero? Will you user your power and authority? Try now!
---