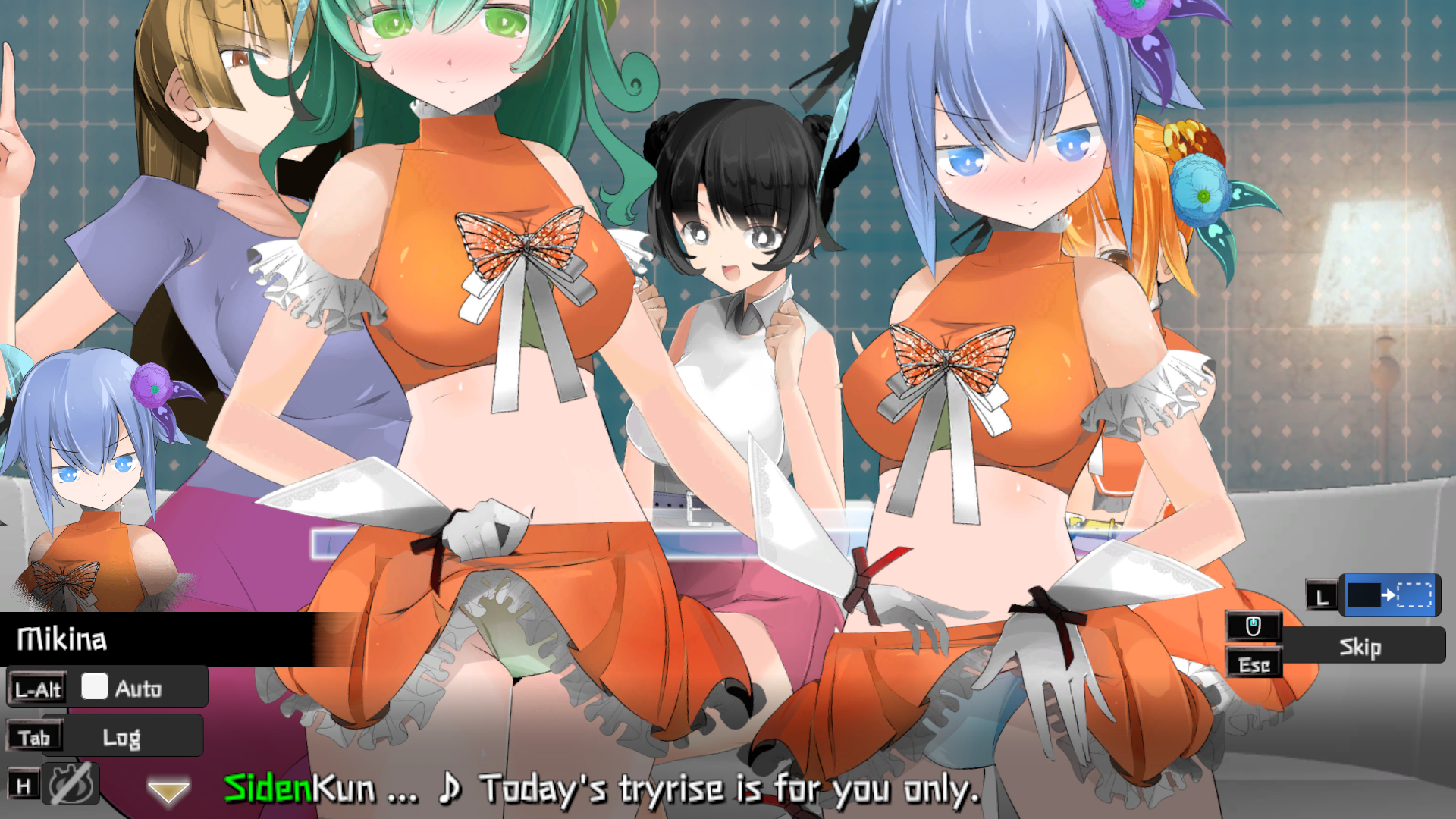 Colour-coded table game Mine's Canary is brought to you by xGames in our large porn games collection. Direct download of this porn game is served with just a few clicks. All new games are are always available for you on xGames.
The theme of this game is "Gambling"!
A table game in which players compete for points by making a winning hand!
The rules are for four players, but something is not right…
Yes, all the players except yourself are in collusion!
Can the main character really defeat the sneaky teamwork of the ladies?
Boom!
The protagonist is defeated by a 'trick'.
When the main character is tricked, he finds it hard to win! *Nope Auto Play You win*
The ladies, on the other hand, can carry on with the game as usual…
The ladies will stop at nothing!
Sexual tricks, naughty attacks…
They'll try anything and everything!​
Last update: 2022-07-23
Released: 2022-07-22
Creator (developer): Excessm –
Censored: Yes
Version: Final
OS: Windows
Language: English (MTL)
Genre:
3dcg, animated, male protagonist, vaginal sex, oral sex, teasing, groping, censored, japanese game, turn based combat, big ass, big tits, sex toys, twins, female domination, titfuck, handjob
Install instructions:
Developer Notes:
Various play support functions
The colourful table game Mine's Canary.
Event skip, fast forward and replay functions.
Auto-save function.
Auto-save function for games.
Auxiliary items to help you advance in the game.
There is a "Clear" button even if the game is lost.
There is a save data that opens up all the erotic elements.
Mode 1: "Story Mode" in which you fight rivals in all sorts of ways.
The colourful table game Mine's Canary [excess m].
Various powerful rivals stand in the way in Story Mode!
There are various naughty obstructions during play, and even after losing!
Each defeat has its own ending!
Approximate play time
…Main only: approx. 1.5 hours
…about 3-4 hours including side trips.
Mode 2: The mobs are also fiendish! Field game mode
Mine's Canary [excess m] – a colourful table game
The basic of the basics is to play with colourful tricks!
Various teams of ladies in town challenge the main character to a game!
They can block your moves and skip your turn, or make your cronies torture your penis while you play.
They can also make the hero's cronies torture his penis while he's playing, or even use strangulation techniques, heroine brainwashing, magic attacks…?
They want money at any cost, and the ladies will attack the hero in every possible way.
They attack the hero in all kinds of dirty ways!
Police officers, sisters, gals, teachers, nurses…
You can play against various teams, and while there is erotic play during the game, you can also play against the other teams.
There is also an ending for each team when they are defeated.
Play your own game! Edit function
Colourful table game Mine's Canary [excess m].
The game is based on the character you have chosen, with a colour scheme, physique, parts composition, abilities, etc.
The edit function allows you to set the colour scheme, physique, parts composition, abilities, etc. based on the character you choose.
You can also create your own sex events by entering your own text and direction.
You can also create your own original games by combining them!
Colour-coded table game Mine's Canary: screenshots
Welcome to the adult world of meetings with your secret wishes. Get this from MEGA or other file hostings right now, unpack, easy install and play this adult game.
Be a smart player and get what you want. It will be not just simple robots, there will be a lot of interesting persons that you will met.​ Will you find love and happiness? Will you be a good man? Will you abuse your power and authority? Start now!
---