Buchicome ☆ High kick! is brought to you by xGames in our large porn games collection. Free access to this sex game is served via few clicks. Games like Buchicome ☆ High kick! are delivered to you on daily basis by xGames.
A girl took the same route every time, even though she had a sneaky premonition bad things would happen.
One day, she stopped to pee in a park toilet, even though it was rumored to be a molester's paradise.
Her terrible premonition is about to come true… oh so splendidly.​
Last update: 2022-06-17
Released: 2022-05-30
Creator (developer): Aokumashii – –
Censored: Yes
Version: Final
OS: Windows
Language: English(Fan Translated)
Translator:
Genre:
2dcg, animated, female protagonist, combat, groping, vaginal sex, creampie, rape, ugly bastard, japanese game, censored, big ass, big tits, oral sex, handjob
Install instructions:
Whats new (last changes):
May 30, 2022
Content addition
We changed some animations in the battle scene in the park to reduce the load on the PC.
Added support for the latest version of additional packs.
May 13, 2022
Fixed some bugs such as key input invalidity, operation display related bugs, display bugs in the ending scene, etc.
May 08, 2022
With the end of Flash support, we have recreated it in a different format for future updates.
November 14, 2019
This version is compatible with the paid additional pack "Uncle's Room".
June 18, 2019
Addition of an etch scene in the toilet and a new position "face-to-face sitting". Added the ending scene that accompanies it.
Developer/Translator Notes:
Translator
The game includes partial uncensor (without redrawn original sprites).
In this version they updated the game engine to Godot from Flash.
SPOILER: Patch installation instructions
1. Use a folder with no Japanese characters during the game installation or unpacking;
2. Unpack the translation files into the game folder;
3. Run english_patch_v205.cmd and wait until it finishes (It's possible you'll need to rename ぶちこめ☆ハイキック! to Game if the .cmd refuses to do it);
4. Play the game.
5. You can also delete .pck.backup and .xdiff files as they are no longer needed.
■ How to play
————————————————————————————————————–
This is a game in which you control a girl to defeat a perverted ojisan.
But defeating him is not the main objective.
He attempts to grab the girl and try to do various things to her.
To resist, she needs to consume stamina, and when it runs out,
she can no longer attack or resist.
She'll gradually start to enjoy ojisan's attacks, and may eventually allow him to do stuff!
If she can stop him with a high kick, she wins.
If she becomes so horny that she can no longer resist, she loses.
…Nothing special happens even if she wins, so it's a game of enjoyable defeat.
■ Game controls
————————————————————————————————————–
Character is controlled using a keyboard.
The arrow keys control movement and the Z, X, and Space keys control gameplay.
For details, please refer to the Controls Explanation within the game.
When the girl is grabbed by the ojisan, "premonition commands" will appear.
Each "premonition" corresponds to an arrow key, and the key you press
determines what the man will do.
If the cursor is pink, the ojisan will touch her, and if it is blue, he will take off her clothes.
If the commands are in the way, press X key to make them disappear.
To revert that, press it again.
■ About sex scenes
————————————————————————————————————–
There are two ways to enter a sex scene
1: Ecstasy gauge (lower gauge on the left side.
When the ecstasy gauge (the lower gauge on the left side of the screen,
which increases when the girl is touched) is maxed out and she's out of stamina,
she can be cornered by the wall at the left side.
2: The girl is knocked down to a crouching position, her legs are spread,
and the Ecstasy gauge is maxed out by a rough handjob or cunnilingus.
→3: "I wanna fuck!" command will appear, selecting it will start sex in the missionary pose.
To control the scene, you can use your keyboard or mouse.
After ejaculating in a particular sex scene, click the icon that appears in the upper right
corner or press the Enter key to go to the Defeat screen.
After being fucked as much as you want, the game ends with a long and careful rape.
If you get bored or want to fight from the beginning, you can return to the title
by pressing [SHIFT+R] keys.
Buchicome ☆ High kick!: screenshots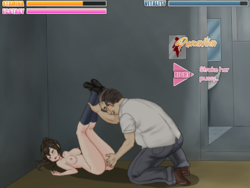 Enter an virtual world with your wishes. Get this from MEGA or other file hostings, unzip, easy install in a couple of minutes and play this interactive game.
Be a smart player and get what you really want. It will be you next second life, there will be a lot of familiar characters that you will met.​ Will you find love and happiness? Will you be a good man? Will you user your power and authority? Start now!
---