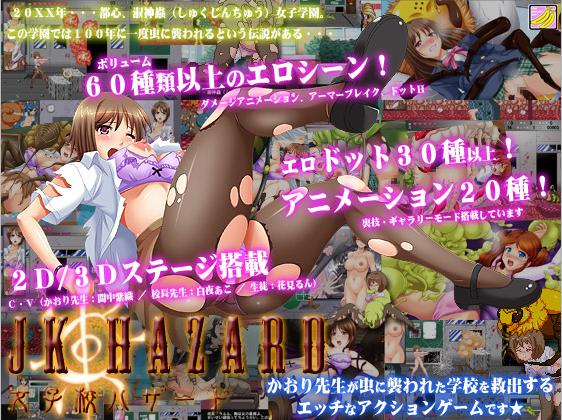 :
■ Story ■
20XX A.D. … Shukujincho Girls Academy… An advanced private school where legend has it, every 100 years there is a bug outbreak…
■ Game ■
JK Hazard is a side-scrolling action game; Horrific enemies rend the clothes of schoolgirls to get at their p*ssies; Of course, when the girls are caught, they are ravished. Entering classrooms will switch to 3D view; An event begins to rescue the girls.
50+ erotic scenes in pixel art style, with full color animation; 3 endings based on the number of girls you have saved.-■ CVs ■
Siori Manaka as "Kaori-sensei"
Aco Byakuya as "Mrs. Principal"
Run Hanami as "Students"
Controls
[E] Switch to joystick/gamepad
[W] Switch to keyboard
(Keyboard controls)
[Enter] Pause, unpause
[Esc] Quit game
[Right arrow] Move forward
[Left arrow] Move backward
[Up arrow] Enter doorway
[Space] Jump
[Z] Fire
[Z] + [Up arrow] Fire upward
[Z] + [Down arrow] Fire downward
[X] Masturbate
(Keyboard controls during 3D view)
[Arrow keys] Move view
[Z] Fire
■■■■■■■■■ 物語 ■■■■■■■■■20XX年・・・都心、淑神蟲(しゅくじんちゅう)女子学園。
この学園では100年に一度虫に襲われるという伝説がある・・・。■■■■■■■■■ ゲーム ■■■■■■■■■横スクロール型アクションゲームです。
敵に襲われ服が破れ、服が破れたらおマ○コめがけて虫が襲ってきます。
もちろん捕まればレイプされます。教室に入ると3D視点のアクションゲームになります。
生徒を救出するイベントが始まります。60種以上のエロシーンはドットエロ、フルカラーアニメーションで構成されています。
アクション部分はドットにこだわった作りとなっています。エンディングは3種あります。女学園を救う過程でエンディングが変わります。各面に様々なエロ要素を設けていますので、次々エロイベントが発生し、ゲームを飽きさせない設計にしています。C・V(かおり先生:間中紫織 / 校長先生:白夜あこ / 生徒:花見るん)
400種以上のボイスでお送りします。難易度設定、裏技も最初から完備していますので、アクションが苦手な方もお楽しみいただけます。
クリア後はトライアルステージ、エクストラステージをお楽しみいただけます。■■■■■■■■■ 操作方法 ■■■■■■■■■● システム
「E」ジョイスチック操作切替
「W」キーボード操作切替
「Enter」一時停止、一時停止解除
「ESC」ゲーム終了● 操作(横スクロールACT)
「→」前進
「←」後退
「SPACE」ジャンプ
「Z」弾を発射
「Z」+「↑」 弾を上方向に発射
「Z」+「↓」 弾を下方向に発射
「X」オナニー(裸の状態の時に使用が可能です。パワーが3つ回復します。)
INの場所で「↑」部屋に入ることが出来ます。● 操作(3D視点ACT)
「矢印キー」照準の移動
「Z」弾を発射
生徒を撃ち殺すとライフが減ります。● 裏技は製品版の説明書に記載しています。
各種操作の追加、各種面セレクト、CGモード解放、エクストラステージなど、様々な遊び方が出来ます。■■■■■■■■■ ヒロインはかおり先生 ■■■■■■■■■私、かおりのプロフィールよ。名前は聖之崎かおり(しのざきかおり)。実は男性経験のない処女なの。
職業は教師をしているわ。まだ教師生活1年目の新米だから、たまにミスもしちゃう。
この学校に赴任したのは、代々インセントキラーの家系をもつからよ。私で15代目。
100年に一度現れると言う邪悪な虫やモンスターを退治する宿命を持つわ。
でも、私、臆病な性格だし、実戦経験もないの。ただ正義感が強いだけ。
生徒のためなら命さえいとわない・・・って思ってるけど、守り切れるかが心配よ。
だからいつも神様にお願いしてるの。「どうか私の代の時に虫が現れないで」ってね。ちなみに、身長は158cmで体重は秘密よ。
バストは・・・巨乳で恥ずかしいけど、98cmあるわ。ウエストは58cm。
ヒップは・・・ああ・・恥ずかしい・・90cmなの。大きなお尻よね。
よく母からは、こんなバカでかい乳とお尻では戦えないって言われたわ。血液型はA型で、好きなものはマンゴーと和菓子よ。
嫌いなものは・・・実は虫なの・・。ああ・・本当に虫と戦う自信がないわ■■■■■■■■■ 体験版 ■■■■■■■■■体験版で4面をプレイしていただけます。
エッチシーンも色々入っていますので、お楽しみいただければ幸いです。
体験版は開発中のものになっています。製品版ではさらにエッチになっています。ホームページに制作日記もありますので、より詳しくゲームの内容を見ていただけます。■■■■■■■■■ ユーザー登録 ■■■■■■■■■修正などがある場合にバージョンアップをおこなう可能性があります。
販売サイトでユーザー登録をお勧め致します。
JK Hazard (Pinkbanana-soft): screenshots
Enter an world of meetings with your wishes. Free download from MEGA or other file hostings right now, unpack, easy install in a couple of minutes and play this adult game.
Be a smart man and take what you really want. And it will be you next second life, there will be a lot of familiar characters that you will met.​ Will you find love and happiness? Will you be a good hero? Will you abuse your power and authority? Start now!
---